L'OréalxBalmain
Not sure if you know this, but Balmain is one of my top 3 favourite fashion houses of all time. The other 2 being Alexander McQueen and Elie Saab. So imagine my excitement when L'Oréal and Balmain announced that they were joining forces to create 12 couture, limited edition lipsticks that possess all of Balmain's fierceness and glamour, designed by Olivier Rousteing himself. The lipsticks are divided into 3 categories or tribes (Rock, Couture and Glamazon) in several different finishes, including metallics and satin mattes, so you're sure to find a shade that fits your personality. It took quite a while to launch in India, but who cares? It's finally here and I'm thrilled to be part of the launch.
While I love almost all the shades, my top picks would be Domination, Power, Legend, Confession, Instinct and Fever. They're gorgeous, pigmented, creamy and would match almost every skin tone. I'd recommend not using a lip balm and just exfoliating your lips instead as using a balm might make the darker colors look semi-opaque and a bit patchy.
All lipsticks are available to purchase in stores and on Nykaa, but since they're limited edition, you might have to hurry!
Celebrates breaking the rules, rebelling and always staying true to yourself

Freedom ( a beautiful jewel-toned purple) and Rebellion (a deep blue) are both a bit patchy on application. 2-3 layers or using a lip liner should do the trick, though. Score - 3/5 for both

Power is definitely one of my favorites. It's a rich red-brown and applies beautifully. Score - 4/5

Legend, a dark taupe-brown shade is another firm favorite. Rich color and very moisturizing. Score - 5/5
Celebrates the glamour and historic couture origins associated with the house

Confidence is a rose-gold metallic shade and is definitely my least favorite of the lot. It's too translucent to be used on its own. Might work topped over another color. But meh. Score - 2/5

Liberation is a nice dark purple. Applies evenly unlike Freedom. Score - 4/5

Domination is a rich, true red. Very pigmented, applies evenly and is long lasting. Highly recommend buying this! Score - 5/5

Confession is a pretty peachy-nude shade, perfect for everyday wear. Score - 5/5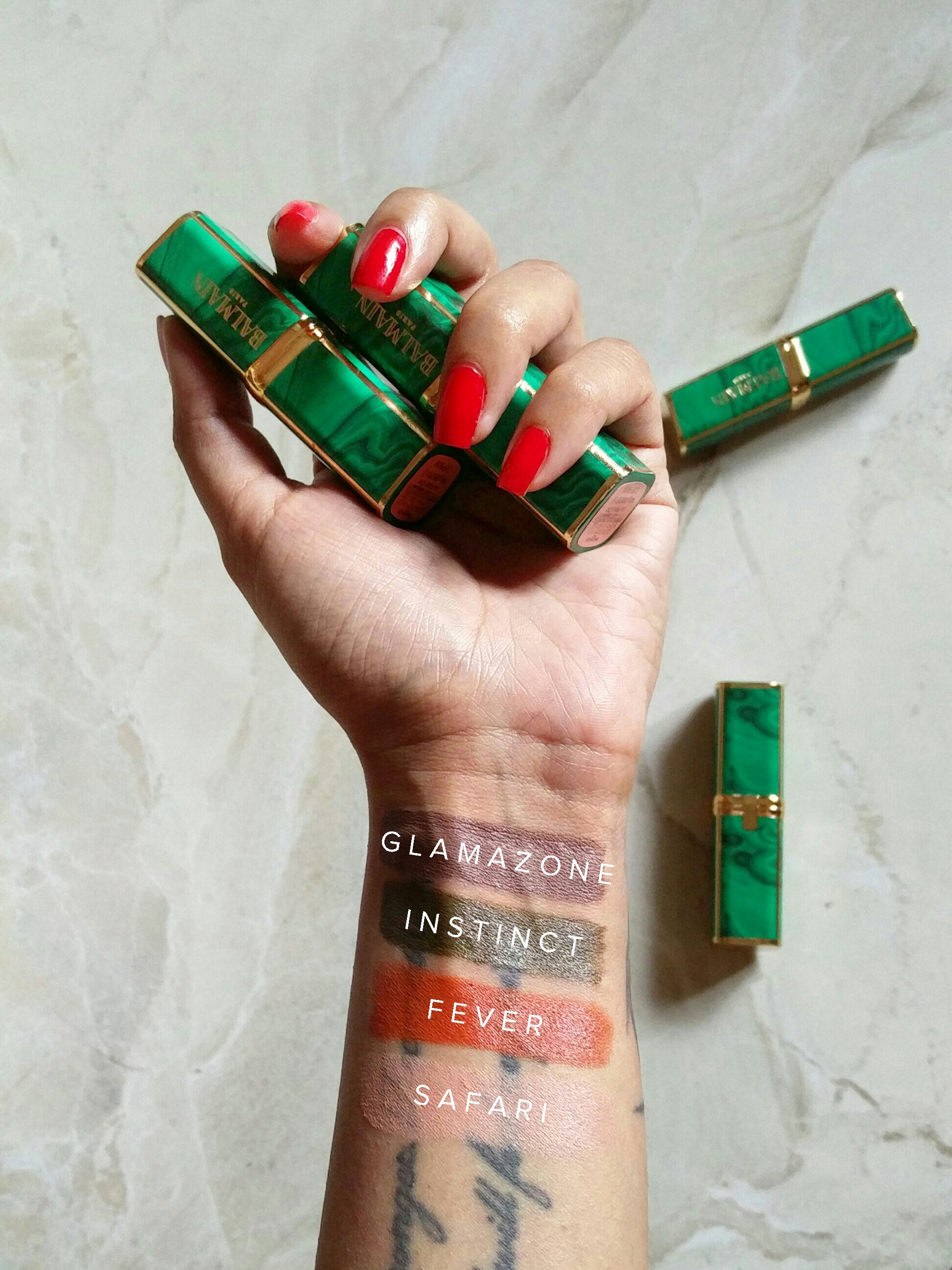 Celebrates strong women warriors and is inspired by themes of adventure and safari

Glamazone is a brown matte similar to Legend but applies a shade lighter. Score - 5/5

Instinct is an edgy khaki-green. Perfect for the angsty teen in you. Score - 5/5

Fever is a stunning bright orange-red. Buy this ASAP! You're welcome! Score - 5/5

Safari is a nude-beige shade that doesn't suit me at all. The color washes me out completely. Score - 1/5
PROS
Affordably priced at INR 1050 each

Beautiful packaging

Very pigmented with a satin matte/ metallic finish

Doesn't settle into fine lines

Secure clasp makes it travel-friendly
CONS
Not very long lasting (3-4 hours). Needs reapplication post drinks/meals

Darker shades like Rebellion and Freedom are a bit streaky

Shades Confidence and Safari might not suit all skin tones
VERDICT
4/5
Overall, the Balmain range presents an impressive line-up of bold, unique shades ensuring that there's a color for every mood, occasion and skin tone.