Cheryl's | 2
I visited the L'Oréal office recently for my second experiential with Cheryl's Cosmeceuticals. Read about the first here. I met with the wonderful Gunjan Jain (National Education Manager) again who attended to me and examined my skin with the Hydrameter that records skin moisture levels and a skin scanner with 7x magnification. I've been unwell for a while and have been popping antibiotics throughout, the result of which was evident on my skin. Suffice it to say that my scan results were abysmal. Gunjan recommended opting for the OxyBlast Energising Facial that targets dull, dry and pigmented skin.
CHERYL'S OXYBLAST™ATTRIBUTES:
Cheryl's OxyBlast facials are specifically formulated with actives like oxygenating complex (tissue respiratory factor) and liposomes of Vitamin A and E which enhances radiance and luminosity with a burst of fresh oxygen on the epidermis. Imparting life to dull and dry skin, OxyBlast facials lighten and hydrate skin and reverse the damage caused by free radicals making it the perfect facial for dull and damaged skin that needs radiance and energising.
The ground-breaking ingredients in this facial delivers oxygen deep into the skin, where skin health, elasticity and firmness begin, leading to increased luminosity and enhanced radiance while also stimulating cell regeneration. It is suitable for all skin types except sensitive skin. It is advisable to undergo the facial every 21 days.
CHERYL'S OXYBLAST™ RADIANCE FACIAL TREATMENT PROCESS:
The treatment is a 7 step process which is crafted and targeted towards long lasting comprehensive results.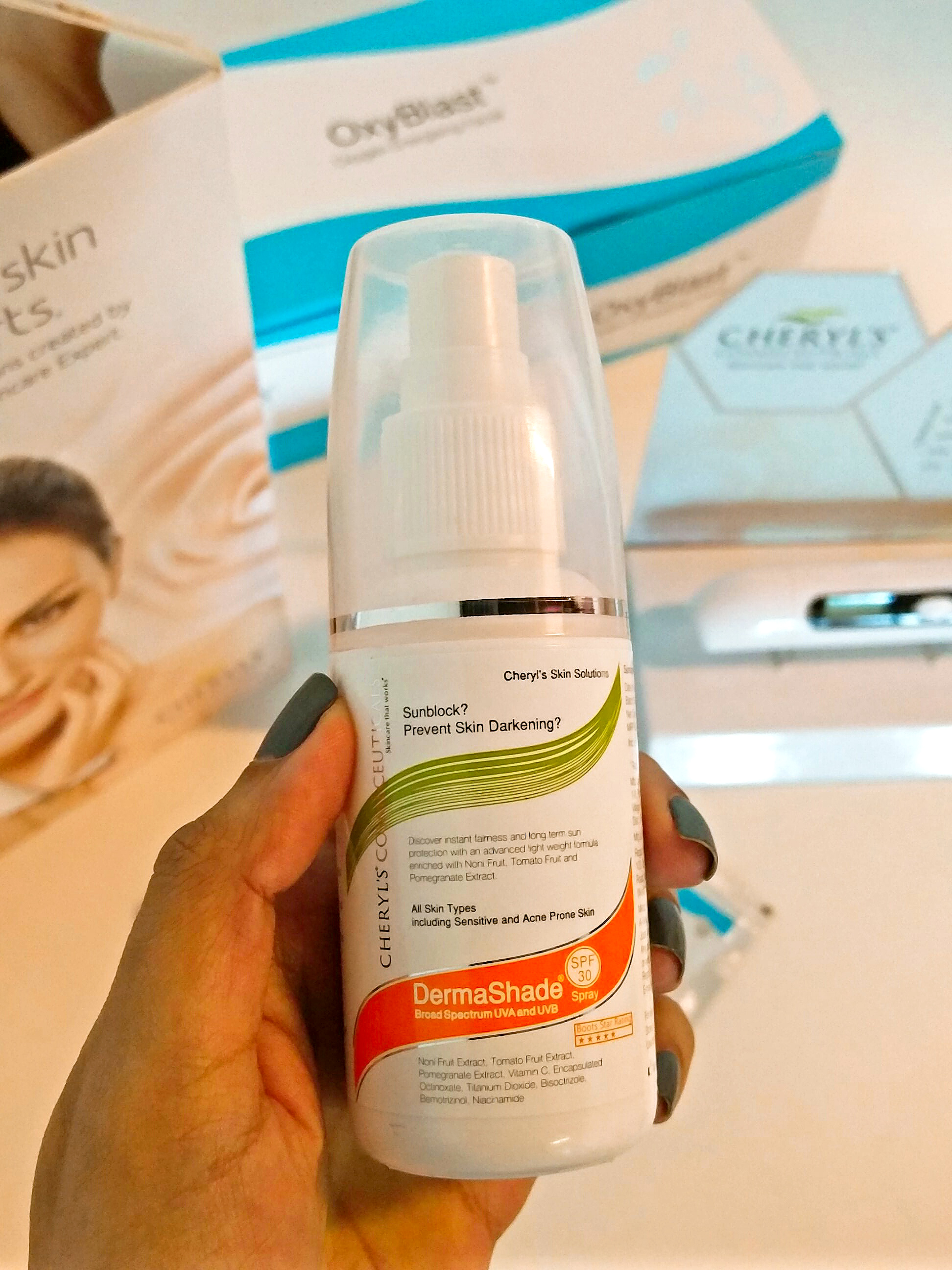 Step 1 | Cleansing
The skin is cleansed with Cheryl's OxyBlast Cleansing Gel, inbuilt with a unique anti-ozonate herbal complex charge of aggressive ozone free radicals which effectively counteracts the breakdown of Vitamin E and C caused by environmental pollution
Step 2 | Deep Cleansing
This step involves using Cheryl's OxyBlast Deep Peel that contains papain, a proteolytic enzyme from papaya that sloughs off dead skin cells from the upper layer of the epidermis and rejuvenates the skin
Step 3 | Toning
In this step, Cheryl's OxyBlast Skin Oxygenator with the help of zinc PCA, oxygenates, revives and hydrates the skin while constricting pores
Step 4 | Oxygen Serum
This step involves infusing oxygen deep into the skin to activate cellular metabolism by using Cheryl's OxyBlast Rejuvenating Serum
Step 5 | Oxygen Mask
This step involves oxygenating the deep tissues of the skin to reduce pigmentation and increase radiance by using Cheryl's OxyBlast Deep Penetrating Mask with Vitamin E liposomes (that is a potent anti-oxidant)
Step 6 | Massage
The second-last step involves energizing and nourishing skin, making it lighter and radiant with the help of Cheryl's OxyBlast Energising Cream formulated with Arbutin
Step 7 | Pack
In the last step, Cheryl's OxyBlast Radiance Mask formulated with Aloe Vera and Canadian Willow Herb soothes, heals, and hydrates skin while also enhancing its ability to retain moisture leading to an improved radiant appearance
Duration: 60+ minutes
Price: INR 2,500+
Verdict: 5/5. My skin looked and felt so fresh and hydrated. I noticed even more difference the next day in terms of skin elasticity and radiance.
HOME-CARE:
To maintain the results of these professional treatments, using home-care products such as Cheryl's O2C2 Radiance Lotion is recommended. Inspired by gene science and stem cells research, it is specially formulated with ingredients like:
• Sodium Cocoyl Alaninate that is a potent anti-ageing agent
• Actinidia Polygama Fruit Extract that improves the transparency of the skin
• Evodia Rutaecarpa Fruit Extract which is known to enhance the radiance and luminosity of the skin
Price: INR 1050
O2C2™ Radiance Lotion is formulated to draw out and enhance the natural radiance and shine of the skin that is most associated with young, youthful and glowing skin. All these ingredients come together and help in regulating the production of melanin that causes skin darkness and evens out the skin tone. It also enhances collagen production, leading to smoother skin with fewer fine lines and wrinkles.
* products and treatments available at select salons across India